Diamonds are Forever Casino Night Extravaganza
Benefitting the SPCA of Central Florida
Grace Financial Service Associates is happy to invite you, and your company, to the Diamonds are Forever Casino Night Extravaganza Benefitting the SPCA of Central Florida, Saturday August 13th, at the Citrus Club. (You do NOT have to be a member to attend this event.)
Last year we raised over $20,000 dollars for the MDA. This year we do it for the animals, and it's going to be even better!
Think you've got style? Come see what 4 million dollars has done to the newly renovated Citrus Club, and show up in your best attire. This is the best yearly event the Citrus Club puts together. Tickets are limited so don't miss it. Tournaments, prizes, food, open bar for the first hour, and more.
(Yes, this is my pooch, Merlin)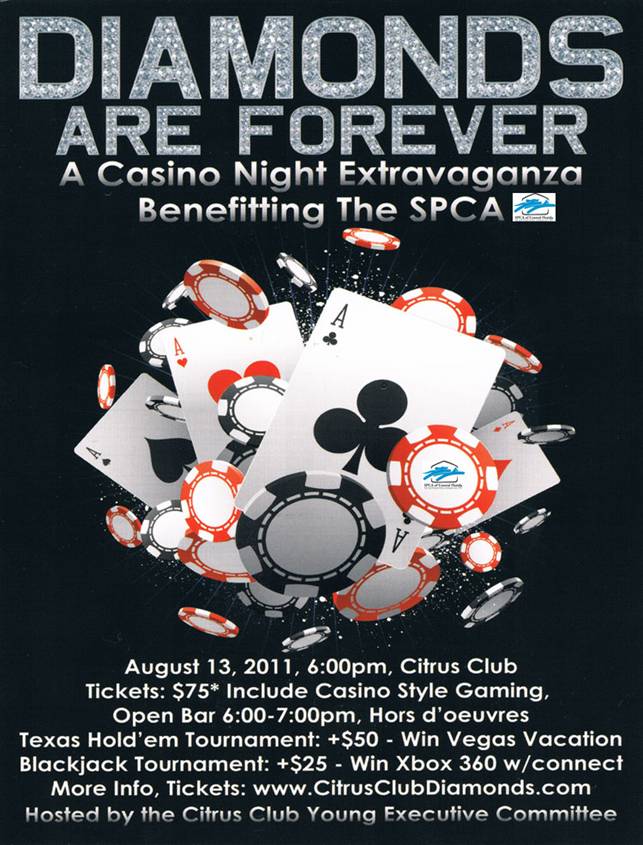 More Event Details
At Diamonds, the Citrus Club Young Executives aim to have more entertainment than you could possibly consume in one evening.
Want to be an event sponsor and have your company donation on display?
Sponsorship or donation opportunities available - contact Jaima Walker (jaimawalker@gmail.com)
What
A casino night extravaganza, benefitting the SPCA.
When
Saturday, August 13, 2011
6:00pm Registration
7:00pm Gaming begins
Where
The Citrus Club on the 18th floor of the BB&T building.
255 South Orange Avenue, Orlando, FL 32801
Map
Attire
Show off your Bond Style - An upscale night on the town.
Casino Gaming
All Guests will receive $5000 in "fun money" to play as they wish at our open gaming tables. Don't know how to play craps, roulette? No problem. Our dealers will be giving lessons for all games starting at 6:30pm, with tables open for play at 7:00pm. What happens when you run out of "fun money"? Buy some more! Each fun money purchase goes to benefit the SPCA, so bet high and bet often! We will have the following table games at Diamonds:
Blackjack
Roulette
Craps
Poker
All guests will be entered for raffle prizes to be drawn at the end of the event! You must be preset to win, so play all night, and win big. Every guest present has at least one chance to win.
Texas Hold'em Tournament
Think you got what it takes? Show us! We're holding a tournament with a bunch of great prizes (below) for the winners. The tournament has a $50 buy-in. Check the game rules page for more information.
Blackjack Tournament
Blackjack rules! A casino game where you actually can beat the house? You bet! Show us what you got at out blackjack tournament. The tournament has a $25 buy-in and pays great prizes (see below). See the game rules page for more information.
Food / Drink
All guests will enjoy an open bar from 6:00 to 7:00pm. For the remainder of the event, cash bars are available. Citrus club members can also pay for their drinks with their club account. Hors d'oeuvres will be served throughout the evening in the Diamonds Lounge.
Silent Auction
Back by popular demand is our unique ebay©-style silent auction system. You can place your initial bid and maximum bid all at once. If someone out-bids your initial bid, your bid is automatically raised up to your maximum bid - just like your favorite online auction system!
Check out our List of Silent Auction and Prize Items Thank you to our donors!
Entertainment
There will be more entertainment than you can shake a stick at. Here's a little of what we have planned
Open Bar (6-7pm)
Food
DJ
50/50 Raffle
Memorabilia Raffle
Cress "The Italian" Diglio (need I say more!?)
Prizes
| | |
| --- | --- |
| Open Gaming Drawing | Las Vegas Vacation |
| Texas Hold'em Tournament 1st Prize | 50" HDTV |
| Texas Hold'em Tournament 2nd Prize | IPod |
| Texas Hold'em Tournament 3rd Prize | Box of fine cigars |
| Blackjack Tournament 1st Prize | IPad |
| Blackjack Tournament 2nd Prize | IPod |
| Blackjack Tournament 3rd Prize | 100 Hooters Wings Gift cert |
* Event details subject to change right up until the event. You know how these things work.
* Prizes subject to change. We're trying to get the best ones we can. All for you, and your magnanimous poker skills.